Hi all - been a couple years since I've been really active on here. Kids just kept popping out of my wife, I'm not sure how

Anyway the boys are getting old 'enough' to start coming out with dad on some runs. I sold the 10 JKU with 4" lift on 37s and got a billet silver JKUR this past July. Took me a while to figure out the exact build I wanted, but parts are ordered and the build begins 3/16 when I'm back from some international travel.
- 2.5" Rock Krawler Max Travel
- ARB d44 diff covers front and rear
- OME Nitrocharger shocks and steering stabilizer
- 35x12.5x17 Nitto Trail Grapplers
- Running stock Rubi wheels with Spidertrax 1.5 spacers
- Teraflex HD hinged tire carrier and mount
- AEV deluxe front bumper
- AEV skid plate
- AEV rear bumper
- Warn CTI 9.5
- IPF 900xs aux lights
- AEV Procal
I'll have some pics when done. Really looking forward to getting out and wheeling with you guys this season. It's been waaaay too long!
Greg
The new JKUR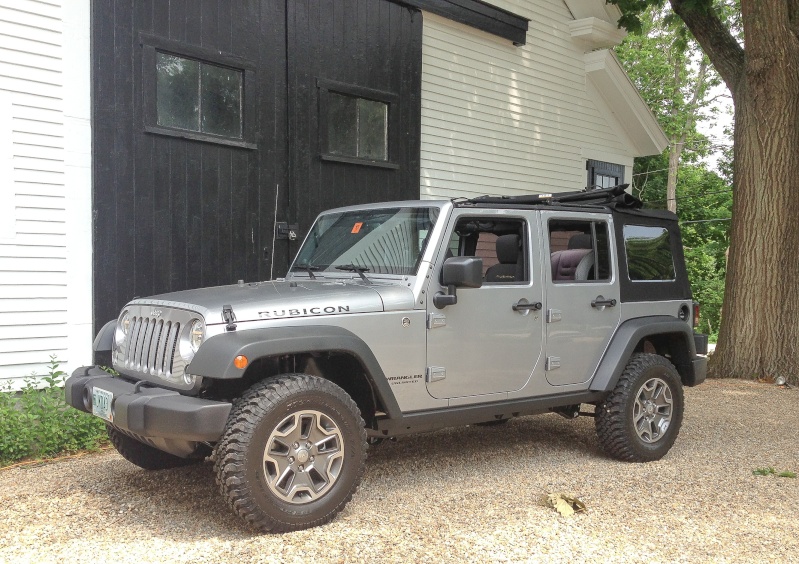 The 2010 Islander SOLD
This thread piques my interest. This is gonna be sweet. I like that list of parts!


Rob Cote

Moab Dessert




Posts

: 673


Join date

: 2012-07-11


Age

: 31


Location

: Ipswich, MA



Great to see you back Greg.
_________________
Ryan, NSJ Club President - 781.632.3864
Built '99 TJ on 35s - My JeepForum Build Thread
All liability at North Shore Jeeps events is your own. You are attending/driving/observing at your own risk. You are solely responsible for yourself, your passengers, and your vehicle.
Nice JKUR - looks like it will be a fun build

Tonellin

Rausch Creek




Posts

: 313


Join date

: 2013-01-08


Location

: Medford



Hi there Greg, welcome back.
Great to see you have a new rig.

Mark

Rubicon Trail




Posts

: 1300


Join date

: 2011-12-10


Location

: Haverhill, MA



Glad you made it back Greg, looking forward to seeing this build!
_________________
--Andrew M.--
Yellow TJ
508.612.2017

Andrew Miller

Admin




Posts

: 398


Join date

: 2011-12-19


Location

: Harvard Ma



Good to have you back Greg. Can't wait to see the new rig.

dongalonga

Rubicon Trail




Posts

: 1047


Join date

: 2012-03-20


Age

: 35


Location

: Lowell, MA




---
Permissions in this forum:
You
cannot
reply to topics in this forum