hey guys its been a while since I been on but my rig has been down due to an accident! best thing that comes out of it is I get to do some major upgrading now!! so from the accident I had to replace my front complete axle (brackets ripped off) all the control arms bent, steering gear box shaft snapped clean off, and I need new shocks. I figured now is the time to do my lift kit seeing as I'm replacing most of the parts anyways! after extensive researching I found anything 0-4" a long arm kit doesn't matter anything 4"+ you should go long arm. I went with a Rubicon express 3.5" super flex short arm(all 8)with monotube shocks. it includes sway bar disconnects as well. I can still keep the stock driveshaft's all I need is the exhaust spacers. the best feature of this kit is the bushing on the control arms have grease fittings and are replaceable unlike some other kits where u have to buy a whole new arm. for the front axle I didn't want to go stock seeing as the brackets ripped off so easy I don't want to be stuck with that crap again. I found that Spicer products makes an ultimate Dana 44 with e-locker! it is a beefed up version of what comes in the Rubicon thick steel brackets and thicker axle tubes to prevent bowing. I decided this was a good time to get rid of the tiny 3.21 stock gears so I ordered it with 4.10s after consulting the range chart I have 33s and my next tire will be 35s I fall right in the green zone. it also has a higher pinion which will help with the lift kit. now I run into the problem of the electronic locker. I can buy the oem wiring harness that plugs into the computer but then it limits when u can engage it and I don't want that so after some digging I found they sell just the plug for the pumpkin and a pair of wires around 6 ft. long to go to a switch. I already have a 5 sw. panel where that little net thing is so I'm going to add a switch to that and all I needs is 12v+ power to engage the locker but I have read that it will heat up the switch due to power draw so get a 20 amp switch.Some also perfer to get a covered switch because if u hit it by accident going highway speed it will try to engage due to it being direct wired and not through the computer. the steering box was a tricky find because there pretty much only 2 companies making them psc and cardone. I went with a psc stock replacement due to funding issue. they do have them with assisted power steering but that's for a later upgrade.

now since I changed the gears in the front I have to leave my front driveshaft out until I can get the rear end regeard up to 4.10s. the whole reason I'm writing this to find out if anyone know a quality shop around Saugus ma that does regearing and does it right the first time!!!! and if anyone has done it what is a rough estimate for a price parts+labor? I also bought a flashcal to reset the computer up to the new 4.10 and tire size. I will have pics coming soon!

jcarozza

Daily Driver




Posts

: 26


Join date

: 2012-06-09


Age

: 29


Location

: saugus,ma




jcarozza

Daily Driver




Posts

: 26


Join date

: 2012-06-09


Age

: 29


Location

: saugus,ma




jcarozza

Daily Driver




Posts

: 26


Join date

: 2012-06-09


Age

: 29


Location

: saugus,ma



Sorry to hear about the accident, but atleast looks like a solid build. As for the shops i am not sure what shops would do it right the first time but i know some guys over on facebook in the Jeeo JKs of New England group do work with several shops a few in the south shore and maybe one in the north shore. You may want to ask there if you are on facebook.

AquilesT

Class 6A




Posts

: 198


Join date

: 2013-08-15


Location

: Roslindale



Thx aquiles I'm joining that group on fb. Finally got it all done at the shop now I'm just need rear end regearded and front driveshaft. I also have some brake line relocation brackets coming and all I could find for the emergency brake extension for the rear is to take it off the clip on the underside of the body. I figured I'll do that and hang them on springs kind of like a tractor trailer hoses so they are somewhat supported. I'll have some pics of that when I get to it. I also have new fender liners to go it's the flat fenders. Originally I had cut the old liners to fit and they were never right so I picked up a set of pre made ones just have to get them in there.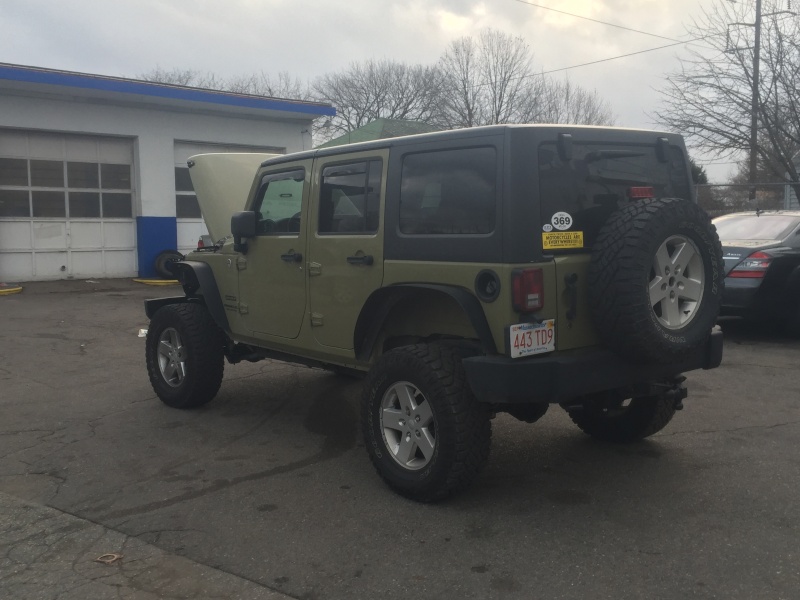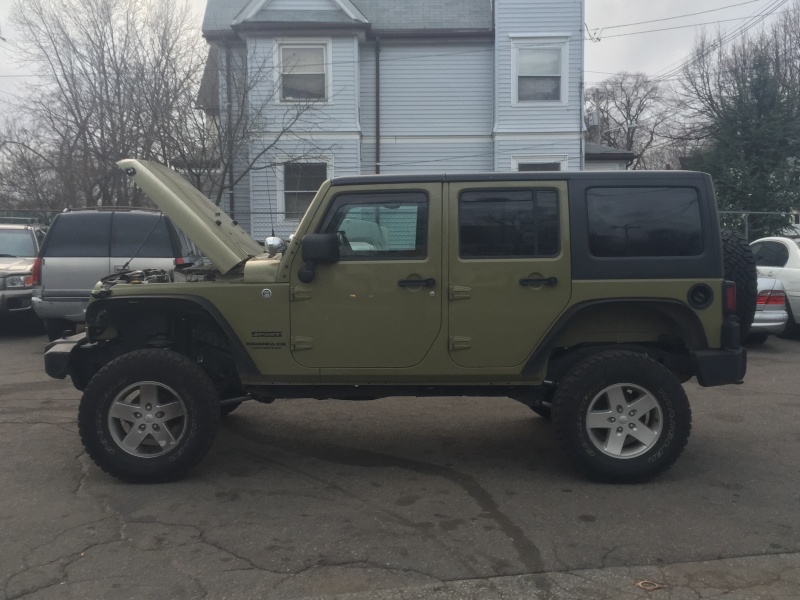 jcarozza

Daily Driver




Posts

: 26


Join date

: 2012-06-09


Age

: 29


Location

: saugus,ma



looks god

AquilesT

Class 6A




Posts

: 198


Join date

: 2013-08-15


Location

: Roslindale



Looks awesome man...having that 44 in the front will be awesome

Tonellin

Rausch Creek




Posts

: 313


Join date

: 2013-01-08


Location

: Medford



---
Permissions in this forum:
You
cannot
reply to topics in this forum