+5
Ryan McKee
dongalonga
CrawlingForward
janesy
FadedLineVigil
9 posters
What's up everyone? I know a few of you on here from other forums. I've got a 2010 Unlimited, 4" lift, control arms, 35" Toyo MTs on 17" matte black steel ProComps. Bunch of other little mods.
I'm always looking to get off road, but don't get the chance that often. On the other end, I do run doors/top off pretty much any day above 60 degrees. Look forward to wheeling with you guys.
Greg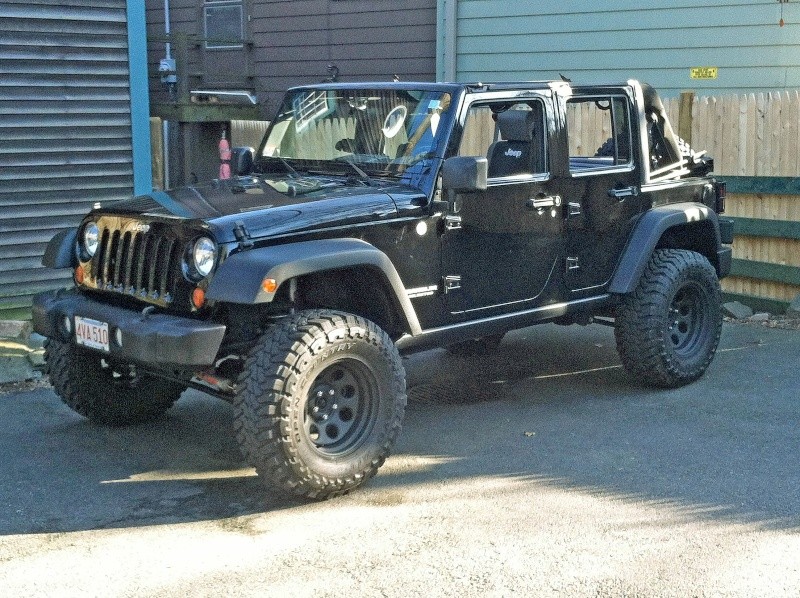 Welcome! Nice looking JKU you got there, and can't say I've seen ya cruisin' around as I'm only a town over in Salem.

janesy

Rausch Creek




Posts

: 330


Join date

: 2012-04-03


Age

: 35


Location

: Beverly, MA



Welcome, and might I say holy crap that's a beautiful looking JKU.

That's exactly the type of stance I'd love to put on ours (....someday. Someday)

Glad to have ya!
_________________
95 YJ, 2" BDS w/ 1" shackle lift, 235/85/16 BFG ATs on Cherokee Icon wheels, SYE w/ Tom Woods Driveshaft, 4.88 Ford 8.8, locked/locked
2010 JK Unlimited, Islander Edition
My JeepForum build

dongalonga

Rubicon Trail




Posts

: 1047


Join date

: 2012-03-20


Age

: 37


Location

: Lowell, MA



That is one AWESOME rig. Hope to see you on the trails some time! Glad you made it over to our club.
_________________
Ryan, NSJ Club President - 781.632.3864
Built '99 TJ on 35s - My JeepForum Build Thread
All liability at North Shore Jeeps events is your own. You are attending/driving/observing at your own risk. You are solely responsible for yourself, your passengers, and your vehicle.
Welcome. there just something sweet about a lifted black JKU.
We've got a run next Saturday. Here's your first chance to wheel with us

angri

Class 6A




Posts

: 185


Join date

: 2012-01-29


Age

: 49


Location

: Candia NH



Nice to see you over hear Greg post a link in your Sig at freaks to try and get more of them over hear

wayne07jk

Mall Crawler




Posts

: 63


Join date

: 2011-12-11


Age

: 33


Location

: Wakefield, MA



Hey Wayne. Yeah seemed like a cool club to be a part of - keep it local.

Up in the air on this trail run vs Tolland next week. I want to do both!
I am doing this one since it us closer and I have to go to work after I get back



wayne07jk

Mall Crawler




Posts

: 63


Join date

: 2011-12-11


Age

: 33


Location

: Wakefield, MA



Nice to see another Header onboard!
Can't say that I've seen that beautiful JKU around either. If you see me (I've got the tan LJ with the RE lift and MT/R's) stop and say hi! I'm heading overseas next week but will be back in september if you want to hook up for some wheeling.

Aaron


Whip

Daily Driver




Posts

: 21


Join date

: 2011-12-12



Hey Greg/ guys...new to this forum from Marblehead as well. I've got 98 Tj full width axles, 4 link, 38s , comp cut and stretched locked the rear. Full body armor, tube fenders and winch. Looking for other people to wheel with. Shoot me a message or email anytime. Thanks colin

Cbbc250

Daily Driver




Posts

: 29


Join date

: 2012-07-16



---
Permissions in this forum:
You
cannot
reply to topics in this forum