Hey all,
Long time Jeep lover, 3x XJ owner, and looking to get my first Wrangler in the next week or two. I'm relatively new to New England, originally from the Chicago area. I'm completely new to actual off roading, mainly due to a mix of lacking proper equipment, people to go with, or knowing the right locations.
Wish I could find some pics of my previous XJs, but haven't had any luck there, but here's a quick rundown:
First: '94 XJ Sport - white and completely stock, parents bought it new and let me have it after I got my license. Still probably my sentimental favorite, might have been unmodified, but it definitely started my love for Jeeps
Second: '91 XJ Laredo - burgundy, this thing... well, let's just say she wasn't pretty. Burgundy and chrome accents should never have been put together. I didn't own this one very long, maybe a year or two before the maintenance became unmanageable. This one also fed my dislike for power locks/windows, I had to climb in through the tailgate on more freezing mornings than I'd like to remember.
Current: '94 XJ Sport - black, bought this one more hastily than I should have. I had dreams of time (and space, and money) to fix it up, but a little over a year later, the only thing that has been done is a new set of tires. The previous owners didn't do anything to stop rust, so a lot of the sheet metal is completely destroyed. Then there's the missing front drive shaft... needless to say, that puts a damper on taking it off road. It's been a decent daily driver, and despite it having plenty of problems, I will sorely miss it when it's gone.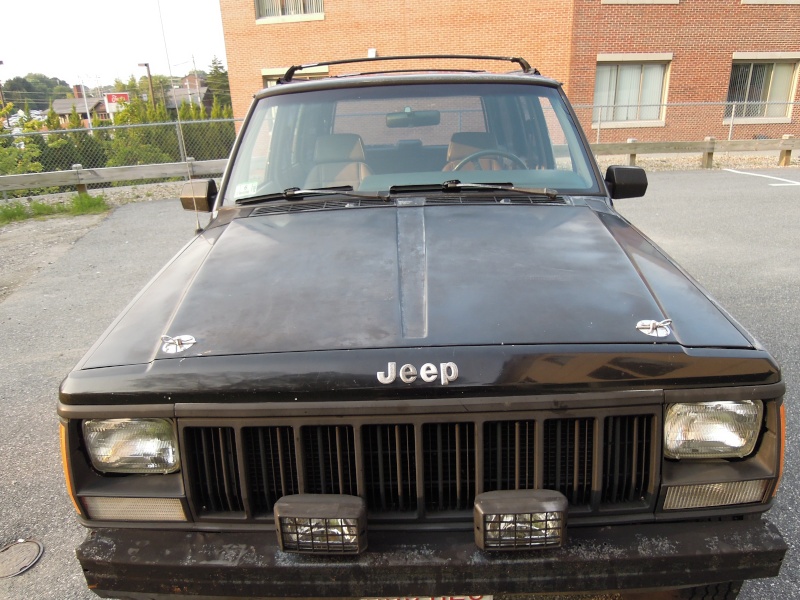 Next: '05 Sahara Rubicon - I was looking for an LJ Rubicon, which I'm either terrible at hunting for, or relatively scarce. A friend is looking for a more family friendly car, knew his fit what I was looking for, and yeah... hopefully by next weekend it'll be mine. For those that care, it's #969, although I'm more interested in the fact that it's an LJ Rubi and the best deal I can get on one.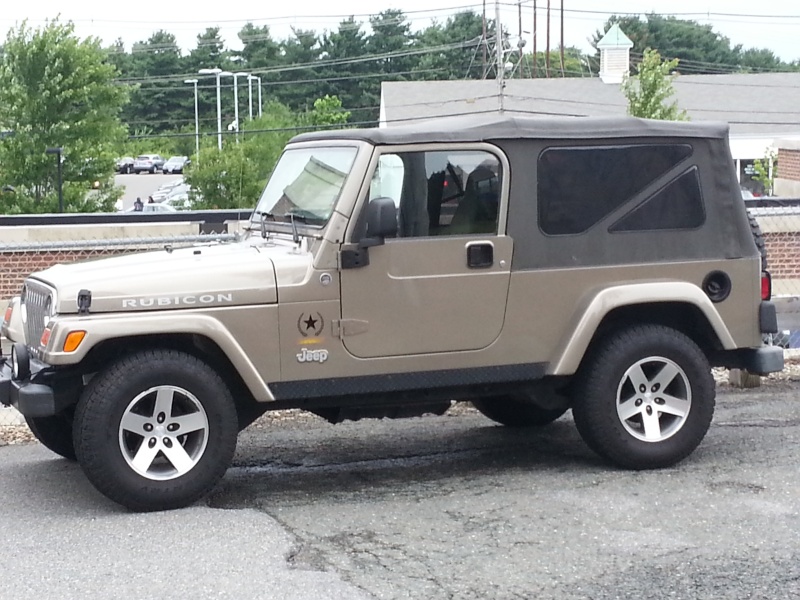 So, now that I'll have a decent machine to start with for the first time in a long time - the last time being high school, when money was non-existent - I'd love to finally go out on some trails and learn what off roading actually is about.
Take it easy and hope to meet some of you in real life and go riding sometime soon
Jason

jlevn

Daily Driver




Posts

: 4


Join date

: 2013-07-28


Location

: Salem



Welcome to the forum dude! My first XJ was a black on grey 94 country. That one never saw the roads because it was a project Jeep that needed way too much work and I didnt have the skills, money, or tools to make it happen. I have had my 96 for 2 years now and I love it. As for the LJ, That looks like a nice one if you can pick it up. LJs are some what rare as far as Jeeps go because they only made them for 3 years, from 03 to 06, and the rubicons were only made for 2 years, 04 to 06, also a lot of people with with LJs like to hold on to them because not only are they a wrangler but they can tow double what a TJ can. Any way. Welcome again to the forum and have fun.

OverlandXJ

Mall Crawler




Posts

: 82


Join date

: 2013-02-20


Age

: 33


Location

: Quincy, MA



welcome. that's a nice lookin lj, honestly one of my favorites for a jeep and I'd love to get one if I ever have the extra money and space for one.

desertzj

Rausch Creek




Posts

: 311


Join date

: 2013-04-29


Age

: 31


Location

: Norwood



Wow LJ rubihara that is awesome man congrats, you definitely found a keeper.  

What's the story on it? Those are very rare you barely ever see them for sale unless it's private party.

Looking forward to meeting you

Tonellin

Rausch Creek




Posts

: 313


Join date

: 2013-01-08


Location

: Medford



Also, not sure if you're familiar with this issue but late model 4.0's suffer from OPDA (oil pump drive assembly) failure. Very serious issue that can lead to cam failure, something you definitely don't want with that awesome LJ...
Here's a little bit of "light" reading on the subject there are tons of threads about it on jeepforum
http://www.jeepforum.com/forum/f9/chrysler-paying-install-new-cam-2005-2006-owners-should-read-963235/
My LJ had a bad OPDA at 100k miles, replaced it with a new Dorman unit in about 30 minutes in my driveway and it's been good ever since. Let me know if you have any questions about it

Tonellin

Rausch Creek




Posts

: 313


Join date

: 2013-01-08


Location

: Medford



Thanks all for the warm welcome

Tonellin: The LJ belongs to a friend right now. Not sure how he came across it, but his kids are getting a bit older and his wife is getting on his case to get something with 4 doors. I've been taking my time looking at LJs for awhile (generally seeing them all at $16-$20k) - and when he started seriously looking for his next car, offered me first dibs on his current. Really just an amazing stroke of luck for me.

Also, thanks for the heads up on the OPDA, wasn't aware of that issue. I'll check with my friend and see if he's even had it checked for that, and probably check it once I have it just to be sure.

jlevn

Daily Driver




Posts

: 4


Join date

: 2013-07-28


Location

: Salem



So I got the LJ
 so far I'm loving this thing. I checked with the PO and he mentioned that this one was affected by the OPDA failure around 70k and had it repaired, no trouble since. Extremely smooth ride all the way up to 75 - at least compared to my last XJ. I don't have any pictures of the underside right now, but the New England salt gods have shown amazing favor towards this thing.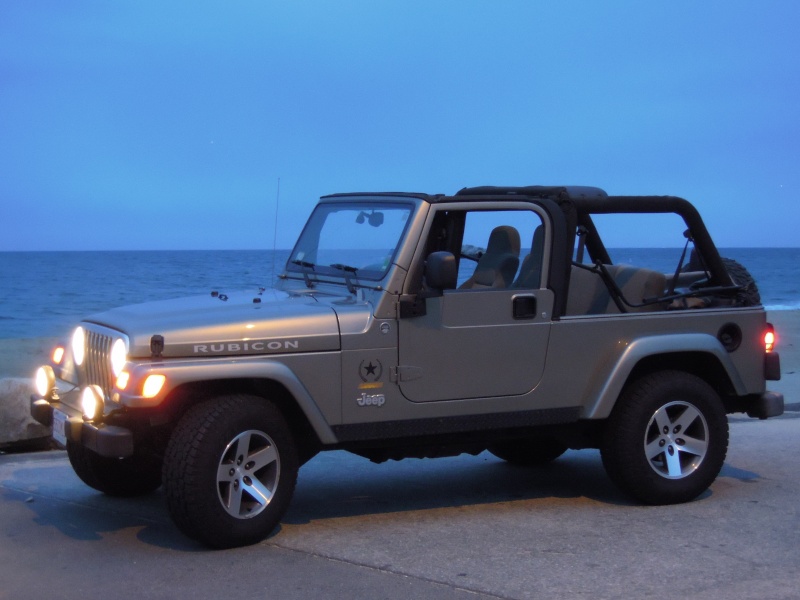 jlevn

Daily Driver




Posts

: 4


Join date

: 2013-07-28


Location

: Salem



Welcome to NSJ,
Congrats on new jeep purchase.
If you want to extend the Frame life of your jeep you will have to get frame plugs.
Rotting from the inside out is very common basically inevitable with the TJ's.
Alot of the rear upper control arm brackets rip off of the frame because of it rotting from the inside out and you will never know it until it's too late. Transfer case skid plate bolts and nuts rot out in the frame rail as well as the frame itself.
Because the frame fills up with road salt, dirt and debris and stays wet, you will have to get plugs to help stop debris from entering the frame.
They plug the hole after the front tire and the one before the rear tire where most of the debris coming off the tires ends up getting in to the frame.
http://www.upperbound1.com/servlet/the-10/frame-plugs-mud-jeep/Detail
Mark,.
Last edited by Mark on 8/2/2013, 3:25 pm; edited 1 time in total

Mark

Rubicon Trail




Posts

: 1300


Join date

: 2011-12-10


Location

: Haverhill, MA



I agree with Mark, I wash my frame out weekly and sometimes 2-3 times a week during the winter when there is heavy salt use.  Although Chrysler seems to have made leaps and bounds in quality control since earlier TJ years.  My '01 frame was crap in a few short years but my '06 is so clean you could eat off it.
Not sure how much driving time you've put in the LJ yet but the later model TJ/LJ's all had lower seat positions compared to the earlier years.  Some garbage about an increased target area for the airbag. The only really thing it did was made for piss poor drivers view.  I picked up a set of 1" seat rises from Buchanan's
http://www.buchananworks.com/html/jeep_parts.html
Other guys have made their own or used body lift/transfer case drops to achieve the same thing but it's definitely something I'd suggest doing unless you're like 6'8"

Tonellin

Rausch Creek




Posts

: 313


Join date

: 2013-01-08


Location

: Medford



Thanks for the links guys! I have a feeling I'll be a bit obsessive with making sure the frame stays clean, I don't want to see this one turn into the rusty nightmare my XJ was, I'll be ordering some plugs to help keep things a bit cleaner to start. I'll have to see about those seat risers as well

jlevn

Daily Driver




Posts

: 4


Join date

: 2013-07-28


Location

: Salem



jlevn wrote:Thanks for the links guys! I have a feeling I'll be a bit obsessive with making sure the frame stays clean, I don't want to see this one turn into the rusty nightmare my XJ was, I'll be ordering some plugs to help keep things a bit cleaner to start. I'll have to see about those seat risers as well
get some rustoleum or mostaliner for your frame. I'm planning on doing a coat to my skid plates before this winter comes around

desertzj

Rausch Creek




Posts

: 311


Join date

: 2013-04-29


Age

: 31


Location

: Norwood



---
Permissions in this forum:
You
cannot
reply to topics in this forum