Howdy ya'll

Just picked up my '98 TJ and couldn't be happier, which I think makes me straight up crazy, but I have a soft spot for this truck, because it's what I drove in high school. My mom has been daily driving it for the past ten years, and for that whole time I've been trying to convince the 'rents to sell it to me. Well, they just packed up and moved to Bermuda, so I got my truck!

My dad has "built" it and done all the maintenance, including an engine swap a few years ago (blown 2.5 replaced with rebuilt 2.5... why, Dad, why?!?!), body lift, and who knows what else. He's a motorcycle guy, although we've had jeeps since I was a baby, so not everything has been "expertly" done on it... (No offense Dad, you cheap b*stard). Basically it is a gutless, wobbly, gas guzzling Heep right now with rust issues, but I'm not afraid of a bit of a project... And I've wanted to learn to weld for a while, now I have a good reason.

So, other than just generally introducing myself, I guess what I'm looking for is someone willing to have a look at her and help me diagnose some of the issues, point out things I have no idea about, etc... and eventually help with an engine/axle upgrade. I'm a sailboat captain which means my mechanical skills on wheeled vehicles leave something to be desired but I'm a quick study and I have great taste in beer, so there's that... Also willing to trade any sort of fiberglass work, boat work, etc if someone is in need.

I'm in Florida working until the end of March/early April, but looking forward to some spring/summer wheeling on the North Shore. Is anyone here a Mass Mudders member too? My fiancees boss is a member, I'm thinking about joining up too.

Thanks!

Colin

Colin_98TJ

Daily Driver




Posts

: 4


Join date

: 2014-01-03



Pic?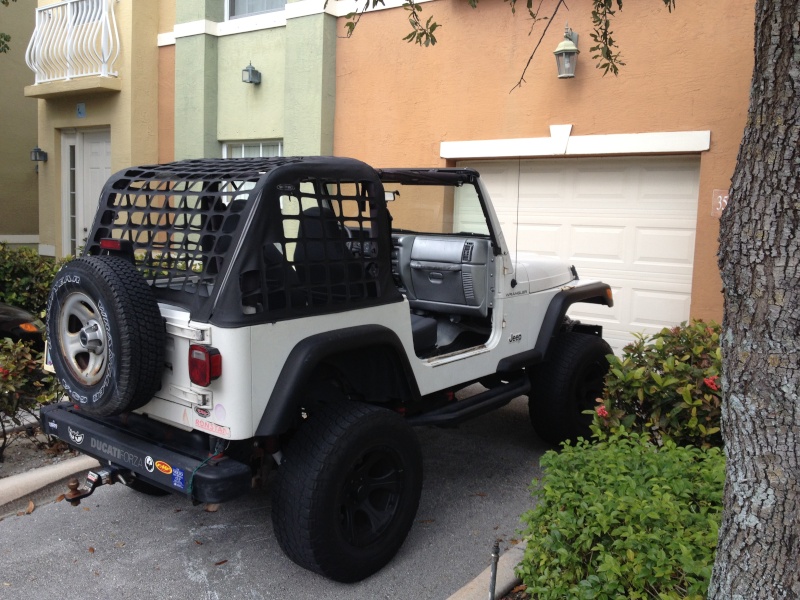 Last edited by Colin_98TJ on 2/7/2014, 2:09 pm; edited 1 time in total (Reason for editing : trying to figure out how to upload a picture...)

Colin_98TJ

Daily Driver




Posts

: 4


Join date

: 2014-01-03



Hey Colin....welcome!

Can't believe your dad swapped in another 4cyl!! Hopefully it didn't cost him anything because I-6 and v-8 upgrades can be done on the cheap but you can definitely address that in the future...

The first thing that sticks out is the MASSIVE body lift that was installed that looks to be about 3 inches. That needs to be at a minimum cut in half, most agree that 1"-1.25" on TJ's work best.

I can also see a pretty massive transfer case drop that was installed to help with driveline vibrations after the lift, it also looks to be huge but it's hard to tell from the angle.

I'm guessing you've still got the D30/D35 combo, what type of transmission? If it's the 6 speed you have the 3.73 gears which in combination with your 4cyl and the bigger tires definitely make it pretty gutless.

Do you have any pics of the front end? There's probably a dropped pitman arm installed that is leading to bump steer and depending on what else is going on in the front there could be additional issues.

What are the rust issues? Any frame rot? I would be nervous about the frames condition near the rear upper control arm mounts near the rear wheel well, that can be a huge problem. I had to get rid of my '01 because of this and I'm pretty sure Ryan (pres) did extensive frame repair to his rig in the same place

Tonellin

Rausch Creek




Posts

: 313


Join date

: 2013-01-08


Location

: Medford



Thanks Tonellin!

Yeah, I believe he got the replacement 2.5 for next to nothing, but that is still no excuse... His motorcycles are all perfectly done and immaculate... This thing not so much. But it will be getting a V8 or maybe even a cummins diesel when I get it home.

Thanks for the tip on the body lift, without knowing that I was already planning to lower it a bit, I really like the LCOG look. Do you reckon I can modify it or should I just be looking to buy a whole new body lift kit? I have saws...

Yes on the axles, D30/35, for now. The tranny is the AX-5 manual. Is regearing one of those a reasonable project or am I better off waiting until I do the engine and axle swap?

I don't have any pictures of the front end on my computer and it's raining cats and dogs down here right now, but I will grab and post some when it clears up. What's a pitman arm?

As for frame rot... Well, yeah. A little bit. Not enough to scare me, although maybe I should be. I'm planning to repair any bad spots and then POR15 it at some point in the near future.  My dad did actually say something about having the rear upper control arm mount welded back on... I will get some pictures of that too when the weather cooperates.

There will be no getting rid of this Jeep, I know that eventually it will be Grandpa's axe (Replace the head, replace the handle, still the same axe?) but I reckon that's part of the fun of owning a Jeep, right?

Unfortunately with the old man starting a new job in Bermuda he is a little tough to get ahold of right now, so I'm kind of flying blind as far as what's been done to it. Gonna send him another email and see if I can't get some answers this time.

I appreciate the help! Cheers!

Colin_98TJ

Daily Driver




Posts

: 4


Join date

: 2014-01-03



Glad to hear your keeping it and gonna save it.  Sometimes I regret getting rid of my '01 because of how much work I put into it, but I got a great deal on my current jeep so it all ended well.
You can definitely cut down the current body lift pucks to a more reasonable height, just remember you'll have to get new bolts as well.  If you cut down to 1.5" you could even sell the remainder 1.5" as a cheap body lift to someone.  Or use the remainder as bump stop extenders, spare tire spacers etc...
Completely depends on what you want to do as far as regearing/swapping axles.  A lot of people would say not to put any money into the ticking time bomb that is a D35.  I blew up my ring and pinion just driving on the street in an old jeep and the thing was never taken offroad...
A pitman arm connects your steering box to your drag link.  A normal OEM pitman arm keeps the geometry between your drag link and trackbar correct.  They are supposed to be parallel with each other.  A dropped pitman arm does exactly what is sounds.  It's usually a good few inches longer than an OEM pitman arm and causes the setup to become unparallel which creates what is known as bumpsteer.  
Here is what the setup should look like:
With a dropped pitman arm it looks like this, notice the lines are no longer parallel because the yellow line has "dropped" below the red line because of the dropped pitman arm
Here's what everything is in your front end:
I'm curious about the rear upper control arms not being connected??  
Here's what my '01 looked like...the corrosion was devastating
Good luck on bringing her back to life

Tonellin

Rausch Creek




Posts

: 313


Join date

: 2013-01-08


Location

: Medford



Welcome COLIN,
Nice looking jeep but you need to loose the body lift. my02

Mark

Rubicon Trail




Posts

: 1300


Join date

: 2011-12-10


Location

: Haverhill, MA



People knock the 4cyl, but it's a tough little bullet-proof sucker with lots of low-end torque for off-road. I love mine and unless I come into a cheap 4.0 (or have enough money to throw in a 4.6 stroker, ha ha) I'll probably keep the 2.5 when mine blows in like 20 years.
In terms of the AX-5, though, definitely not as tough as the AX-15. Gear ratio is fine (it's the t-case that's the superstar there anyhow) but many people's c-clip that holds in 5th gear breaks and I had some internal bearings not live up to the abuse and had to replace mine with an AX-15 conversion. But if it's currently working, then no need to worry.
x3 on nixing the 3" BL
In terms of axles, I ran my 35 for a year or so of wheeling and because of the I4, it held up pretty well, although I eventually replaced it with a stronger 8.8, mostly because it was an easy way to regear after the lift.
It totally is a "Grandpa's Axe" (I love that term, btw. Never heard it before) so use it as such. Too many people worry about building it now now now and it spends it's whole life in a garage instead of being enjoyed. Unless it's a daily driver, just put it through it's paces and upgrade on a "would be nice" basis!
Welcome!  
Hey Colin!

Welcome to NSJ. I believe we've got one member (Janesy) who's also in Mass Mudders. What part of FL are you in? I lived in Winter Park/Orlando for a few years.

Look forward to having you up here with us! Our spring BBQ/year kick-off will take place towards the end of March/beginning of April so hopefully you'll be back to attend.
Thank you all for the warm welcome and good advice. I truly appreciate it. Sorry I haven't responded in a few days, had to put in some 18 hour days there...

So, definitely going to remove the body lift and either replace or modify it down to 1-1.5". Along with an infinite list of other projects...

Tonellin, thanks for those pictures, I'm a visual learner and that helped a lot. Luckily the corrosion on my frame is nowhere near that bad. Actually looking at that one picture makes me think you can't even call what I have "corrosion" haha. But you are 100% correct about the dropped pitman arm putting it out of parallel, and I definitely have bump steer/axle oscillation of some sort because of it. Going to start researching how to sort all of this out. Any insight would be greatly appreciated. I took some pictures on my phone but they aren't any good. I'll try again in better light if you don't mind having a look.

CrawlingForward, Cheers, glad you like that term, it applies to many fun things, I learned it from race boats and motorcycles. It's funny that you mentioned the "daily driver" bit in that same paragraph though, because the ultimate plan IS for this thing to be a daily driver.... for days that aren't moto friendly, anyways. So as much as I admire the 4 banger, this thing is eventually getting powered up enough to push big tires down the road at 65 without breaking a sweat...

Ryan, thanks! I'm working on a project in a little town called Palatka about 100 miles north of Winter Park. Up by St Augustine, and actually pretty close to Ocala. Hoping to do some wheeling here if I can get the rig sorted before I bring it home. Which will hopefully be well before the Spring kick off event. The way this job is going though, I will be lucky to get home before the 4th of July...

Thanks again all, I appreciate all the help, I'm sure I will need a lot with this project.

Colin_98TJ

Daily Driver




Posts

: 4


Join date

: 2014-01-03



Similar topics
---
Permissions in this forum:
You
cannot
reply to topics in this forum