+7
CrawlingForward
Tonellin
Scarytallman
Jake
dongalonga
Andrew Miller
THOOPY3
11 posters
Page 9 of 9 •
1, 2, 3, 4, 5, 6, 7, 8, 9
new bushings make a world of difference lol. And yea since I started working in a shop I've not only learned a ton, but access to lifts and not only my tools, but the guys are kind enough to let me borrow theirs if I need it, makes any job much easier. Doing front and rear axles on a friends TJ, lift and air tools or I wouldnt have done it haha.

About the track bar, always re-install on the ground. I basically have started with taking the track bar off the axle side before I do anything else if I'm doing suspension work. Back on the ground (especially if lift height isn't changing) you can turn the wheels to help line the hole back up again. Or if you're alone a ratchet strap or a 2nd person pushing the jeep helps too haha.

desertzj

Rausch Creek




Posts

: 311


Join date

: 2013-04-29


Age

: 32


Location

: Norwood



A little more progress has been made on the front suspension front. Topher and I were finally able to link up about a week ago so I could grab the adjustable uppers, lowers, and track bar that he was selling. The uppers are Rough Country, the lowers are Rough Country with Teraflex ends, and the track bar is a JKS. Everything is nice and beefy and in good shape, the only issue was flaky paint and rust on the lowers. Nothing an 80 grit sanding disc on an angle grinder couldn't handle.
Before:
During (I didn't really focus as much on the ends since they're mostly unseen):
After: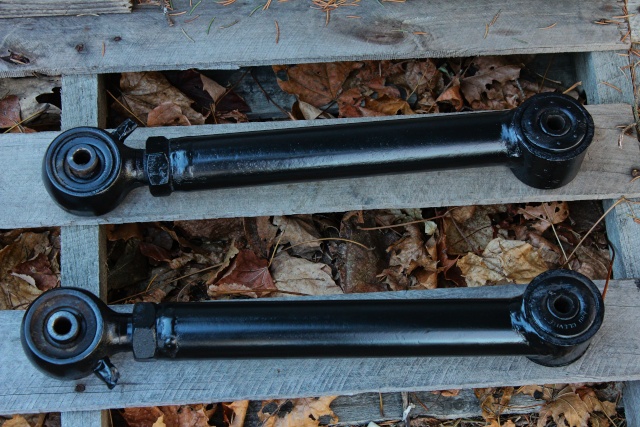 The lowers and the track bar will be going on in a few weeks and should greatly improve overall handling, and the arms will definitely help with the caster and front pinion angle. The unreal improvement I felt after just changing the upper arms and bushings makes me think that it will be like a whole new vehicle once these mods are made.
To help the rear pinion angle I ordered a Rusty's 1" drop crossmember. There's currently a 1" spacer drop already on the crossmember, but the pinion angle is still not great and there's a lot of stress on the t-case output shaft and yoke, rear shaft, and pinion yoke. I'm hoping that combining them will eliminate those issues as well as the vibes from 50-60 mph and decent clunk I get from axle wrap during heavy acceleration and deceleration. Before anyone says it:
yes, I know that the proper solution to this is a slip yoke eliminator and a slip shaft
. But since I won't be wheeling this Jeep I can't/won't justify the money or effort involved in making that happen (that sort of money and effort is what the YJ is for
). I just hope that a 2" drop won't drastically affect any/all shift linkages, but I won't really know until it's bolted up.
So in the last week I've gotten the drop crossmember, adjustable track bar, and adjustable control arms installed. As you would expect almost nothing went according to plan, but as it stands today they are all installed and the Cherokee drives much smoother than it did a week ago.

I never really bought into the idea of a track bar being the culprit for a front end wobble, but I'm man enough to admit when I'm wrong. The adjustable JKS bar (combined with the previously installed drop pitman arm) brings all the steering components back into alignment with one another, and the fresh bushings and flex joint in the JKS bar make a world of difference. Add in fresh bushings and flex ends in the control arms and what you get is a much more solid feel in the steering and a shake-free steeling wheel up through 80 mph (I didn't take it any further because it is a lifted Jeep after all).

My driveline vibes are still present but I'm hoping to take care of those soon by combining the crossmember and spacers together to lower things to about 1.5 inches total. As I learned doing the crossmember work this may not be possible because of clearance issues with the exhaust, but I'm hopeful we can make it happen.
Page 9 of 9 •
1, 2, 3, 4, 5, 6, 7, 8, 9
---
Permissions in this forum:
You
cannot
reply to topics in this forum